The open-source Coyote software was developed by the Museum of Contemporary Art Chicago to support a distributed workflow for describing images in our web CMS and publishing those descriptions to our public website. The MCA team is creating both alt-text descriptions of 20–30 words, as well as much longer descriptions, particularly of collection works.
Coyote offers role-based logins to facilitate image description tasks. Administrators approve, assign, and review descriptions. Cataloguers create descriptions from an assignment queue or select images to describe. To provide additional context for cataloguers, Coyote presents the image caption, where available. Coyote allows multiple cataloguers to describe an image; it also allows a single cataloguer to create multiple description–potentially in multiple languages–of the same image.
An example from the MCA Collection: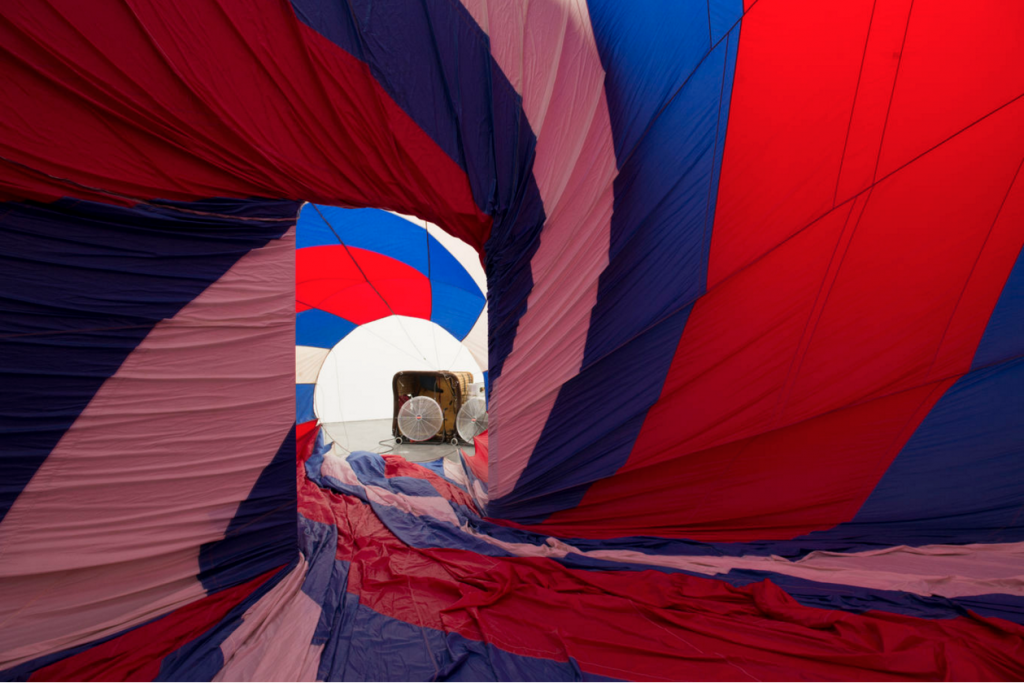 Kris Martin, Belgian, b. 1972
T.Y.F.F.S.H., 2011
Hot air balloon, basket, metal ring, and fans Dimensions variable. Collection Museum of Contemporary Art Chicago Gift of Mary and Earle Ludgin by exchange, 2011.43. Photo: Nathan Keay, © MCA Chicago.
Alt text:
A red, white, and blue fabric canopy presses against walls of room; portable fans blow air into the room through a doorway.
Long description:
This is an installation that viewers are invited to walk inside of. From this viewpoint you are looking through a doorway at a slight distance, as if standing inside of a large cave and looking out of its narrow entrance at the world outside. The walls of this cave are alternating stripes of red, white, and blue material that seems to be made of some kind of thin fabric. These colored stripes spiral around toward the entrance, as if being sucked out of the opening. The inside of the cave is more shadowed and the area outside is brightly lit. Gradually you notice that there are in fact two openings lined up in front of each other, straight ahead of you: the first one is a tall rectangle—the red, white and blue fabric is wrapped through the edges of a standard doorway; beyond that it continues to spiral around toward another circular opening. The center of this circle is much brighter, as if one had finally escape from the cave. At the center of that circular opening you see two large white fans facing your direction, blowing air into the cave-like opening. Beyond the fans you see a brown, square form, which is the bottom of a huge wicker basket. This basket, lying on its side, helps to reveal the truth about what you are seeing: You are standing inside of a huge hot air balloon, which is lying on its side. Blown by the fans, the fabric billows out to press out against the existing walls of a large room, the malleable shape of the balloon conforming to the rectangular surfaces of an existing building–the gallery that contains it.